Brothers United Winter Retreat History
The Brothers United Winter Retreat is our annual out of town event that is specially targeted to address a wide range of topics within the African-American Same Gender Loving/Gay-Bi, and Transgender community. The Retreats are held at state parks generally during the first or second weekend in December.
The atmosphere is always very relaxed and gives participants a chance to explore issues of identity,spirituality, and sexuality. It is faciliated in non-threatening and culturally sensitive forum. At times it can be entertaining, provocative and emotional. Although the majority of participants live in the Tennessee, we welcome friends from out of state to join us for what has been dubbed as our down home-sourthern style "family reunion".
Each year the retreat has a theme. This theme helps the Retreat Committee to guide the overall concept and direction of the workshops and activities for the weekend. It is also a time celebrate and highlight the timeless efforts fo the entire network of Brothers United chapters devoted to stopping both the spread of HIV, as well as to empower, embrace and help provide a better quality of life those already diagnosed.
The next official Brothers & Sisters United Retreat will take place in 2008. We hope that people will continue to support these types of weekend gatherings. The past 10 years have been absolutely fantastic, and after a short break, we hope to have many, many more great times together.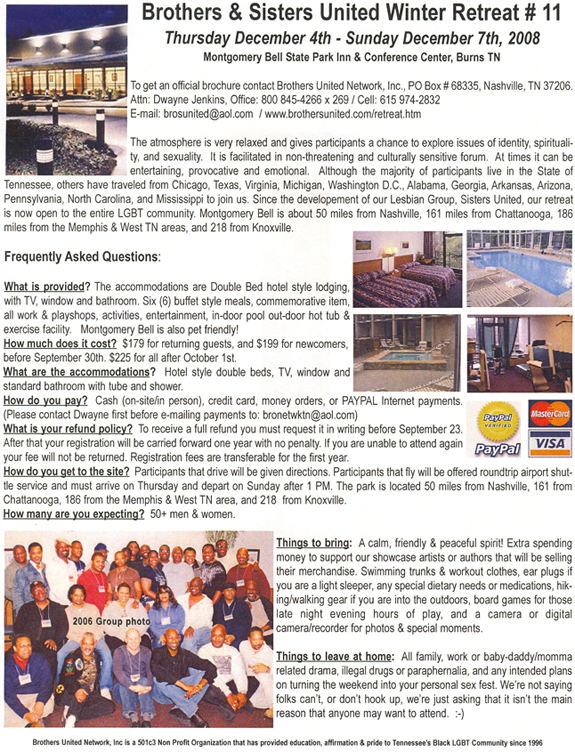 Copyright 2005 Brothers United Network of Tennessee | Website by
Patrick Keuanu