Nashville Black Pride takes place the last weekend in October
The mission statement of Nashville Black Pride© (NBP) event is to bring together African American and other Gay/Same Gender Loving People of Color in a social, none threatening and empowering setting to uplift, educate and present positive images and self actualization that help to maintain a healthy, productive and visionary community. This event is licensed through the International Federation of Black Prides Organization and takes place the last weekend in October.
Nashville's Black Pride is an annual event under the umbrella of the Brothers United Network, Inc. organization (BU) states only Black Gay non profit 501c3 organization, and abides by the IFBP By-Laws. This celebration created for and by local members within the African American Lesbian Gay Bisexual and Transgendered (LGBT) community, is open to all people regardless of race, sexual orientation, or gender identity. It will, however, be an outreach effort that is specifically targeted to reach the underserved LGBT communities of colors in our area.
Annual Nashville Black Pride weekend events include a Reception, Couples Recognition, Spoken Word & Poetry Showcase, Workshops & Forums; Book signings, a Benefit party, free and confidential HIV testing, live entertainment, and Black LGBT Film Fest.

Contact: Dwayne Jenkins, President
Office: 800 845-4266 x 269 / Cell: 615 974-2832

Nashville Black Pride, Inc. PO Box 68335, Nashville TN 37206
E-mail: NashBlackPride@aol.com
Web site: www.brothersunited.com/blackpride.htm
MySpace: www.myspace.com/nashvilleblackpride
For all your official Black Pride inquires please go to: www.ifbprides.org
Nashville Black Pride is a Proud Member of the International Federation of Black Prides Organization. Brothers United Network, Inc is a 501c3 Non Profit Organization that has provided education, affirmation & pride to Tennessee's Black LGBT Community since 1996.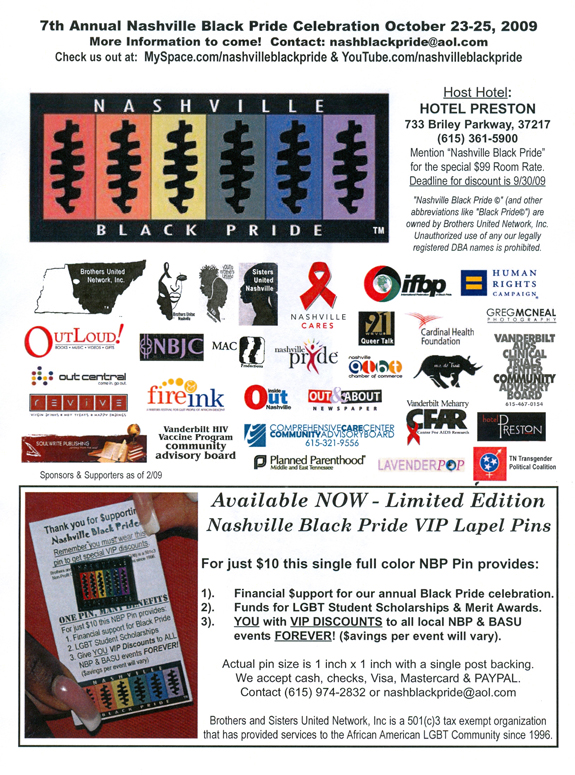 Copyright 2005 Brothers United Network of Tennessee | Website by Patrick Keuanu